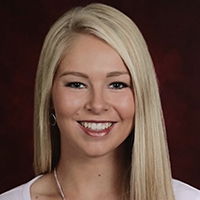 Cora Conatser is the recipient of the 2019 Charles W. and Jane (Klipsch) Thomas Scholarship and the Dr. William J. McNabney and Thelma V. McNabney Memorial Scholarship.
The Charles W. and Jane (Klipsch) Thomas Scholarship was created by Charles and Jane Thomas in 2010. The Thomas family, long-time supporters of education, created this scholarship to alleviate the costs of a college education and allow students who wish to learn to pursue their dreams.
This scholarship is awarded to a graduating senior from an accredited high school in Delaware County with at least a 3.0 grade point average. Consideration is given to academic ability, citizenship, community service, and extracurricular activities. This scholarship is designed for students who have gone "above and beyond" their academic studies outside the classroom.
The McNabney Scholarship is awarded to Delaware County college-bound seniors and provides a four-year renewable award for undergraduate study. In selecting recipients, consideration is given to moral character, academic ability, extracurricular activities, civic responsibility, and the potential for leadership and future success.
Cora, a senior at Delta High School, plans to attend Ball State University to study biology and pre-dentistry. She is the daughter of Glenn and Sharee Conatser.