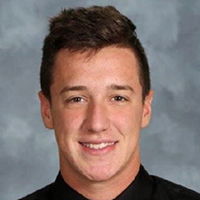 Chandler Tucker is the recipient of the 2019 J. Burgess Memorial Scholarship.
This scholarship is awarded to a Ball State University student who is a graduate from a Delaware County high school, and who is obtaining a business degree from the Miller College of Business.
Tucker, son of Brad Tucker and Shelby May, is a 2017 graduate of Delta High School. He is majoring in Business Administration at Ball State University.