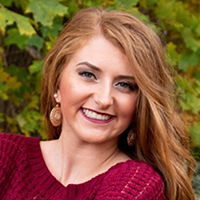 Carlie Braielle Boggs is the recipient of the 2019 Murray's Jewelers Scholarship.
Recognizing the value of higher education in the community, the Murray family and Murray's Jewelers celebrated the store's 125th anniversary in 2010 by establishing the Murray's Jewelers Scholarship Fund. This scholarship is awarded to a graduating senior from Delaware County who maintains at least a 3.0 grade point average and plans to study fine arts or business at a regionally accredited college or university in the State of Indiana.
Carlie, a senior at Wapahani High School, plans to study business administration at Ball State University. She is the daughter of Charles and Stormie Boggs.