Cam Miller is the recipient of the Ross Family Autism Scholarship.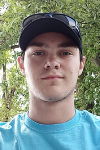 Cam is a senior at Cowan Jr/Sr High School. He plans to attend Bethel University to study ministry. He is the son of Chris and Larry Miller.
The Ross Family Autism Scholarship was established to honor the two sons of the Ross Family who have Autism. The scholarship is designed to inspire students who are on the Autism Spectrum to pursue their dreams of furthering their education.