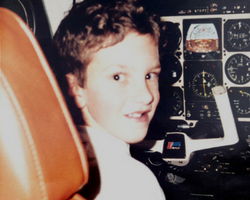 A story of never holding back in the face of adversity
At 13, Michael Brodhead was wise beyond his years. He loved school and airplanes, played baseball, and participated in junior golf tournaments, bowling competitions, and water-skiing endeavors. Michael never held back from life even in the face of adversity.
When Michael was born, doctors performed an operation immediately because his heart was on the wrong side of his chest. It was one big chamber instead of four separate ones, and none of his vessels were hooked up to his lungs. At birth, Michael defeated the odds and he continued to do so for the next 13 years of his life.
Michael's disability created obstacles that he had to navigate throughout his childhood. Luckily, he was surrounded by support. His parents were always sure to be transparent with their son from the beginning. This familial integrity allowed Michael to be more aware of his own limitations.
"With Michael, we were always honest with him about his condition, and he was always honest with us about how he was feeling," Rob said.
With the guidance of a thoughtful pediatrician, Michael knew his own limits regarding his disability. According to Rob, Michael usually knew when to draw the line. Tackle football was an exception.
"We never really said no to Michael, other than that one time," Rob said. "He loved sports, and he wanted to play tackle football on the team. We said, 'You know, that's probably not a good idea.' He would still throw the football around with his friends in the backyard, but tackle football was probably not something he needed to do. That was probably the only time we ever said no to Michael when he wanted to do something."
With this encouragement and support, Michael was able to own his disability instead of the other way around. His physical limitations never defined how hard he worked or the types of things he did. If Michael wanted something, and knew he could achieve it physically, he went for it.
"Even though Michael had physical limitations, that never really stopped him from working hard and doing what he wanted to do. He lived every day with gusto, and he was always eager to try new things."
Rob recalls that, despite extraordinary circumstances, Michael strove to have a normal childhood. Rob attributes his son's affinity for school to his desire to be like his peers.
"Michael was an excellent student who really liked going to school," Rob said. "He could just be a kid when he was in school. He could just be like everybody else."
At age 13, Michael's condition worsened and he passed away. His impact remained. The next year, the school's yearbook was dedicated to his legacy. Michael's love for school and his classmates is part of the reason the Brodhead family thought a scholarship might be an appropriate way to memorialize their son, brother, and friend.
"The Foundation made it a lot easier for us as a family to administer a scholarship fund every year. The Foundation was able to spread awareness that the scholarship was available. When we see the annual report, we get to see Michael's memory in the community continuing, and that's really important to us."
In Michael's obituary, the family asked for donations to a fund at a local bank instead of flowers. That fund was soon turned over to The Community Foundation of Muncie and Delaware County.
The Michael Brodhead Scholarship is awarded to a student who has overcome a physical disability, demonstrates good moral character, maintains good scholastic standing, and participates in extracurricular activities. These eligibility requirements are in line with Michael's hard work and positive attitude. The scholarship fund at The Community Foundation will continue forever, ensuring the name and memory of Michael live on.
"The Foundation would invest and administer the fund so that we didn't have to worry about it," Rob said. "Quite frankly, the Foundation made it a lot easier for us as a family to administer a scholarship fund every year. The Foundation was able to spread awareness that the scholarship was available. When we see the annual report, we get to see Michael's memory in the community continuing, and that's really important to us."
Even with a poor prognosis, Michael had an impact on everyone he encountered. The nursing staff and his family appreciated Michael's positive outlook.
"The nursing staff at Ball hospital wrote us a note and said that during his last three months, Michael had so much spirit and rarely did they see him without a smile," Rob said.
Rob recalls one of his favorite memories about Michael. Michael made reservations at Foxfires for his parents on their anniversary, had Rob's assistant get an anniversary card in which he wrote a personal note and signed it, and somehow ordered of a bottle of wine, all from his hospital bed.
"He made these arrangements for us even though he was lying in a hospital bed, and I think that was typical of Michael," Rob said. "He was always thinking of others and not himself."
In the last few months of his life, family members from all over the country came to visit. Michael knew his time might be running out soon, but he still made his last memories with his family special.
"Michael was smart enough to know why they were there, but it was always a joyful time and there was laughter," Rob said. "There were a few times where if somebody wanted to get sad, he wouldn't let that happen. He would change the subject and bring up fun memories of things that he had done with relatives or cousins. It was not going to be a down time; it was going to be a happy time. That is the way he approached it even though he knew why they were there."
Perhaps the closest relationship Michael had was with his older brother, Patrick. The brothers were only 18-months apart. When Michael was in the hospital, he would always ask, "How's Patrick doing?"
Rob recalls Michael saying he didn't want to be forgotten. His vast impact and contagious positive attitude has made forgetting him impossible for all who knew him. Creating a memorial scholarship fund in his name has made it easy for his family to pass on his legacy to other students who have overcome physical disabilities.
The Brodhead family knew Michael would have gone on to college if he had the chance, so they wanted to pass that chance on to other students like Michael.
"It's very rewarding," Rob said. "To be in a position where we can provide some financial help to others just made us feel good, and it was a way for us to remember Michael."
When his parents were still in Muncie, they went to the local high school's awards ceremonies to present Michael's scholarship to the recipient. Being able to share Michael's story with students in the community has been special to them.
The family now lives in Arizona and Wisconsin, but they are still able to see the impact Michael's scholarship has had on its recipients through 'thank you' notes.
"Truly, I think it has made a difference in their lives," Rob said. "It's given them the confidence to move forward and it's given them the opportunity to attend school, which has been their goal."
Patrick, Michael's brother, has taken on more responsibility in the award process. Eventually, he will take over the duties his parents have had in the process, and now will have some say in who will receive the scholarship each year. Patrick welcomes the opportunity to help continue his brother's legacy.
Rob recently had the opportunity to come back to Muncie. Rob visited Ball Memorial Hospital where Michael spent the last few months of his life. He also got to visit Michael's grave. Coming back to Muncie was an opportunity to remember Michael's impact on a community that impacted Michael as well.
"I think Michael touched a lot of people," Rob said. "He was very thoughtful and wise beyond his years. His can-do attitude and his positive spirit rubbed off on those around him. He made everybody feel good. In the brief time that Michael was part of the community, he demonstrated that it is possible to overcome a handicap and to live a very happy, productive, and fun life and that's the way Michael was."