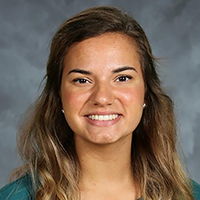 Audrey Douglass is a recipient of the 2019 Kathleen Rozelle-Camplin Scholarship.
This scholarship is in memory of Kathleen who graduated from Daleville Jr/Sr High School in 1929. Selection is based on scholarship, community service, citizenship and participation in school activities.
Audrey, daughter of Bryan and Tammy Douglass, plans to attend Indiana Wesleyan University.