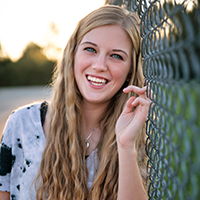 Ashley Evans is the recipient of the 2019 Owen H. Ramey Memorial Scholarship and Nicholas Brooks Sherfy Memorial Scholarship.
The Owen H. Ramey Memorial scholarship is awarded to a graduating senior from Cowan Jr./Sr. High School, who plans to attend a four-year college, junior college, community college or technical school with the eventual goal of obtaining a baccalaureate degree. In determining a recipient, consideration is given to academic achievement, the manner in which the applicant has occupied his or her time outside of school (extracurricular activities, employment history, community service, etc.), and the applicant's stated goals and answers to questions on the application form. Activities and accomplishments illustrating self-motivation and honorable conduct are considered favorably in the evaluation of a student's eligibility for this scholarship.
The Nicholas Brooks Sherfy Memorial Scholarship was established by Shawn and Nikki Sherfy in memory of their son Nicholas (Nick) who had an unexpected heart attack and died in 2015. Nick was a 2010 graduate of Cowan Jr./Sr. High School and a 2015 graduate of Ball State University. This scholarship recognizes a student from Cowan who participates in athletics and has the desire and determination to pursue higher education.

Ashley, daughter of Tammy Hargrave, plans to attend Ball State University to study nursing.