EXPOSURE TO THE ARTS IMPROVE QUALITY OF LIFE IN TOWNS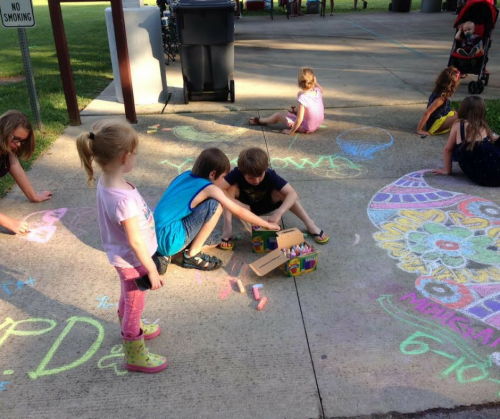 Reaching the corners of the county in 2016, town endowment funds at The Community Foundation made grants related to the arts.
The Town of Yorktown Fund supported the Yorktown Council for the Arts with a $2,500 grant. Jennifer Groves, a long-time supporter of the arts, leads the new organization.
"Whether it's a big city or a small town, art can make an impact on people," said Jennifer.
The grant funded their Movies in the Meadow program and a paper lantern release. The community has embraced the work of the Yorktown Arts Council. The organization has planned six more Movies in the Meadow during 2017. Like the lanterns released, the Arts Council is reaching for the sky as they prepare for its future in Yorktown.
In the northern part of the county, the Wes-Del Chieftain reached the Gaston community through a creative look at the past and the present. A $1,250 grant from the Town of Gaston Endowment Fund allowed Wes-Del High School to buy a new computer and equipment for the yearbook staff. The Wes-Del Chieftain has been a staple in the Gaston community since 1966.
"Because it is such a small and family-like community, the events at the school often become the community events," says Mary Willaert, The Chieftain advisor. "Wes-Del graduates enjoy looking back at previous yearbooks at class reunions. It is a vital piece of their history."
This year, in celebration of its 50th anniversary, yearbook staff asked alumni to share memories of Wes-Del. The student-produced publication is stretching student skills while recording community history.
Looking to the east, the Liberty-Perry Alumni Association received $500 through The Liberty Perry Selma Town Endowment Fund. The grant, along with support from Wapahani Music Boosters, the Liberty-Perry Alumni Association and gifts from community members, supported fine arts through the band program at Selma Middle School and Wapahani High School.
The bands purchased drum carriers for the drumline. The new carriers replaced 20-year-old equipment. The new carriers provide safe and ergonomic support to musicians allowing them to play longer with less fatigue.
These Delaware County organizations saw the value in providing more exposure to the arts for their small town residents. Grants from The Community Foundation supported their trailblazing efforts.
Milestones: The Journey To Get There
$50 Million. That's a big number. We are pleased to share that we have supported programs and projects across Muncie and Delaware County with more than $50 Million in grants since our beginning in 1985. That is just one of the many milestones that The Community Foundation of Muncie and Delaware County achieved in 2018. Read our complete annual report to learn more.