WHEN WE SERVE STUDENTS, WE SERVE OUR COMMUNITY
NEED HELP WITH YOUR APPLICATION?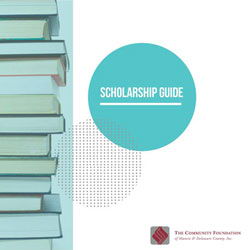 This scholarship guide was created by program staff at The Community Foundation of Muncie & Delaware County to provide guidance and tips to students who are applying for the Foundation's scholarships.
Scholarships at The Community Foundation are competitive. Writing essays, gathering activity information, and coordinating letters of recommendation can take a significant amount of time. We hope that this guide provides you with the tools to submit a scholarship application.
Scholarship applications open on January 1. Please return to create your account and begin your application on or after January 1.
Contact Us
We're all about serving the community, so we welcome input from the community. Tell us about a need, ask how to get involved, or just let us know what you think of our website. We look forward to hearing from you.