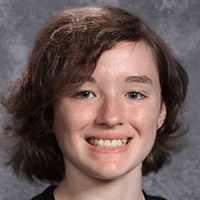 Amanda Wallace, a senior at Heritage Hall is a recipient of the 2020 Arthur D. and Josephine M. Robling Scholarship.
Recipients must be residents of Delaware County, be of good moral character and display good citizenship, and must have maintained at least a 2.5 cumulative grade point average in high school.
Amanda plans to attend Ivy Tech Community College. She is the daughter of Les and Peggy Wallace.