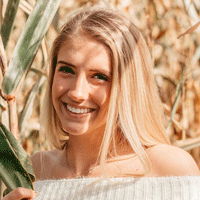 Abigail Adams is the recipient of the 2020 Charles L. Whitehair Memorial Scholarship and the Murray's Jewelers Scholarship.
This Charles L. Whitehair Memorial Scholarship was established in memory of Charles (Chuck) L. Whitehair to honor a graduating student from Delaware County who was involved with Delaware County 4-H Program or Future Farmers of America. Chuck was a sixth-generation Delaware County farmer, an active community member, the father of four daughters, Whitney, Morgan, Macy, and Abigail. Chuck was also a ten-year 4-H member and served as a mentor to new generations of 4-H participants.
Recognizing the value of higher education in the community, the Murray family and Murray's Jewelers celebrated the store's 125th anniversary in 2010 by establishing the Murray's Jewelers Scholarship Fund. This scholarship is awarded to a graduating senior from Delaware County who maintains at least a 3.0 grade point average and plans to study fine arts or business at a regionally accredited college or university in the State of Indiana.
Abigail, a senior at Wapahani High School, plans to study business and marketing at Ball State University. She is the daughter of Kevin and Tracy Adams.