Aaron Alford is the recipient of the Michele Barnhart Hires Scholarship.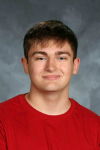 Aaron is a senior at Daleville Jr./Sr. High School. He plans to attend Ball State University to study landscape architecture. He is the son of Bobi Alford and Casey Alford.
The Michele Barnhart Hires Scholarship honors a 1966 graduate of Daleville High School. A popular fun-loving student, Michele was active in theatre and choir. Although she finished high school as a "C" student, she was determined to earn a college degree. Michele did just that. She earned a degree in speech, drama, and communications from Pepperdine University. The Michele Barnhart Hires Scholarship is awarded to a graduate of Daleville Junior/Senior High School who plans to attend either a recognized Indiana post-high school educational facility (college, junior college, trade school, etc.) or Pepperdine University.