Greg Huffman Named the 2021 Recipient of The Community Foundation's David Sursa Leadership Award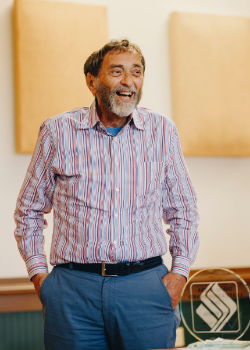 Muncie, Ind. – The Community Foundation of Muncie and Delaware County, Inc. has announced that Greg Huffman received the 2021 David Sursa Leadership Award to recognize his dedicated service to Muncie Civic Theatre.
Huffman was nominated by Muncie Civic Theatre for his leadership on the Board of Directors over the last four decades. Huffman joined the board in the 1980s and has served on the board most years since. He has been a business committee and executive committee member and held leadership roles, including secretary, vice president, and president.
Huffman is committed to the mission of Muncie Civic Theatre. In addition to his board service, he is a season ticket holder, attends productions regularly, reviews, and responds to feedback from surveys, newsletters, and meetings. When Huffman travels, he often attends stage productions and brings back ideas to use in local shows.
"He believes in the theatre's mission," wrote Laura Williamson, executive director, in the nomination. "He believes that it's essential that there be places of quality entertainment, available to all kinds of people, that will help them develop and maintain a sense of pride in their hometown."
Muncie Civic Theatre credits Huffman for keeping the Theatre afloat during financially tight years and leading efforts during their more recent capital campaign to renovate the historic Boyce Block. They shared that Huffman was instrumental in developing the list of potential donors for the campaign, introducing the Theatre to those donors. They explained that he has helped the Theatre make regular steps to a sustainable future.
In addition to financial and fundraising support, Huffman's professional experience has allowed him to provide legal advice, manage changes to organizational by-laws and assist relationships with tenets. He has also guided on human resource matters, assisting in changes to staff leadership over the years of his service and helping the Theatre expand its staff and programming.
In addition to his service on the Muncie Civic Theatre board of directors, Huffman is a Senior Attorney at DeFur Voran, representing individuals and business entities in commercial and real estate transactions. He is a member of the Muncie Bar Association, Indiana Bar Association, Phi Alpha Delta, and East Central Indiana Estate Planning Council. Huffman shows his dedication to the Muncie community through his additional service as a former President of Muncie Salvation Army Board, former Vice President for Development at the United Way, former President of Community Enhancement Projects, Inc., former instructor for Indiana University School of Continuing Education (Real Estate), and a Church Council member of High Street United Methodist Church.
Huffman was surprised with the award on June 9 during a Muncie Civic Theatre board meeting.
Each year, the Foundation reviews nominations for high-caliber community leaders that deserve recognition. We are pleased to share the names of the other finalists for the David Sursa Leadership Award. Finalists for 2021 include:
• Heather Williams, ecoREHAB
• Mia Johnson, YWCA Central Indiana
• Claudia Sursa, Greater Muncie, IN Habitat for Humanity
The David Sursa Leadership Award was established in memory of the Foundation's first leader. As Founding President, David Sursa blazed the trail for The Community Foundation. His visionary leadership contributed significantly to the Foundation's success and the generous support it has provided to our community. The annual program rewards, recognizes, and encourages extraordinary nonprofit leadership by a board member displaying the characteristics and commitment to the community expressed by Mr. Sursa during his lifetime.
Additionally, in David Sursa's honor and commemorating the award, The Community Foundation of Muncie and Delaware County awarded a $2,500 grant to Muncie Civic Theatre.
For more information about the David Sursa Leadership Award, please visit The Community Foundation's website at cfmdin.org or contact Kelly K. Shrock, President at kshrock@cfmdin.org.
###