Yorktown Town Endowment Fund Helps High School Mentors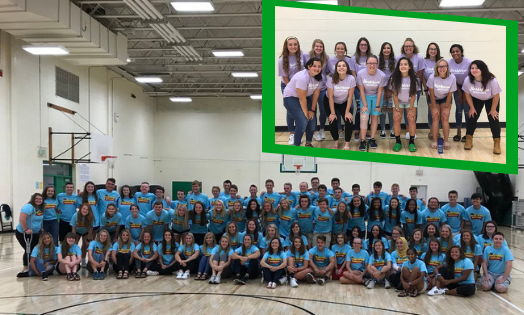 In June 2018, The Community Foundation provided Yorktown Community Schools $1,600 as a part of the Town Endowment Grants program. This money was used to fund the mentor and ambassador programs at Yorktown High School for the 2018-2019 school year. Both programs are institutions at the school, facilitating the potentially nerve-wracking transition into high school for new students.
The mentor program pairs every incoming freshman student with a junior or senior mentor for their entire freshman year. The mentors contact their freshmen during the summer to answer any questions and invite them to kick-off day. Kick-off day is a day before school starts where the freshmen are given a tour of the school, meet their fellow classmates, and go to their classes to get a lay of the land before their first day. The mentor homeroom teachers and mentors meet with their freshmen in a homeroom setting once a month during the year where they can continue to provide support to the freshmen students and develop positive relationships.
The ambassador program provides similar support to 10th, 11th, and 12th-grade students who transfer to Yorktown High School from different schools. For students who are new at the beginning of the year, the ambassadors and their homeroom teachers host a New Tiger Night. New students and their parents are given a tour of their classes and are provided an opportunity to ask questions to try to make the transition to a new school smoother. The ambassadors also greet new students from all grade levels throughout the school year and escort them to their classes for the first couple of days. The ambassadors give tours to guests of the high school and prospective employees and volunteer at various events throughout the school system including kindergarten round-up, conferences, and PTO events.
The past academic year was another successful year for both the mentor and ambassador programs. All new freshmen and new students were warmly welcomed to the building, which had a profound effect on the student population. Due to confidentiality reasons, YHS cannot share specific stories, but there were countless examples where guidance was provided, connections were made, and students' lives were enriched, which benefits everyone in the community.
Apply for Grants
The Community Foundation grants to nonprofit organizations and educators throughout Delaware County through a variety of grant programs.