High schoolers learn through teaching at Cowan Jr/Sr High School
For almost 10 years, Candace Neal has been pairing high school juniors and seniors at Cowan Jr/Sr High School with 1st- and 2nd-grade students at Cowan Elementary School for the Science Buddies program. This program, created by Mrs. Neal, allows high school Biology II students to teach elementary students about various scientific concepts through small group interactions and one-on-one mentoring.
"We can do about six lessons a year, depending on the lesson and what is on the school's calendar," Mrs. Neal explained. Since 2014, many of those lessons have been supported by the Robert P. Bell Education Grant program at The Community Foundation of Muncie and Delaware County. Mrs. Neal has been awarded more than $1,700 in grants from the program.
"Without the Bell Grant funding, our projects would just be ideas," Mrs. Neal shared. "The projects we do without the money are limited and don't have an element that the elementary students can take home."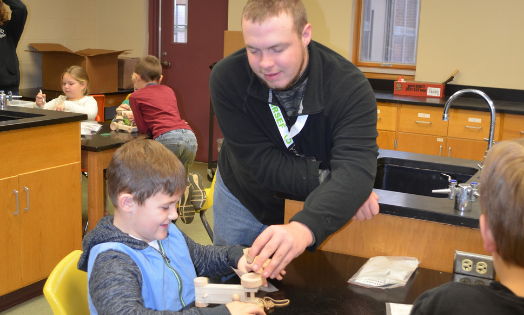 Mrs. Neal's most recent project funded by a $441 Bell Grant incorporated rubber band racers and the scientific method. First, the wooden cars were built and tested by Biology II students who used the cars to experiment with mass and force using metal washers and rubber bands. The Biology II students then conducted the experiments they designed with their Science Buddies. The rubber band racers will also be used during the 2nd semester by 7th grade Science students in a Physical Science unit.
"The Biology II students have to develop the lessons for their Science Buddies based on the supplies that they have," Mrs. Neal explained. "Since this course is an elective, the students want to be here, and they want to be able to participate in fun projects like this."
For some of the middle and high school students, their participation in Mrs. Neal's Science Buddies projects is coming full circle as they were once the elementary buddies years ago. Now, as older students they get the chance to interact with elementary students – an opportunity they wouldn't otherwise have.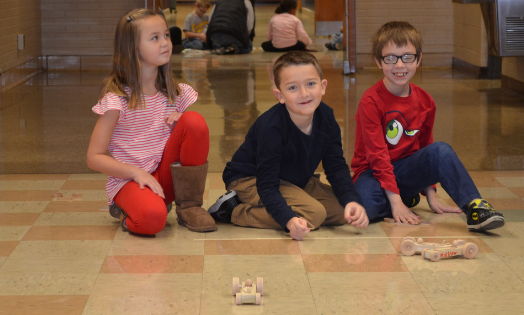 "I love getting to teach the younger kids," senior Lily Johnson said about the Science Buddies program. "The elementary children are super funny, and their responses, ideas, and ways of thinking are very different."
During the Science Buddies project to test the rubber band racers, students were divided into six groups each made up of two high school students and three to four elementary students. Each elementary student was given their own wooden car powered by a rubber band. The groups spent some time discussing what would happen with the wooden car, and then the groups spread out into the high school's hallways and gym to have enough room to test their theories.
"The elementary students love being with the high school students, and having the small group time," shared Ms. Shepler, a 2nd grade teacher at Cowan Elementary whose class was participating in the Science Buddies program. This Science Buddies project correlated perfectly with Ms. Shepler's classroom unit on forces and motion. "It is harder for elementary teachers to build these types of projects and give the students one-on-one time. We enjoy this time just as much as our students do."
Since the Robert P. Bell Education Grant Program was established in 1992 by the Board of Directors of The Community Foundation, more than $127,000 has been granted to teachers in the Muncie and Delaware County community. Bell Grants provide support for classroom projects that are innovative and creative and designed to stimulate learning, like the Science Buddies lessons at Cowan Community Schools.
Support Bell Teacher Grants
Robert P. Bell Education Grants are awarded to teachers with innovative ideas, programs, or projects that are designed to stimulate learning in their students. Grants range in size from $50 - $450. Your support to the Robert P. Bell Teacher Grant Fund will give teachers opportunities to enhance classroom learning.