Music for All Engages Community Beyond Campers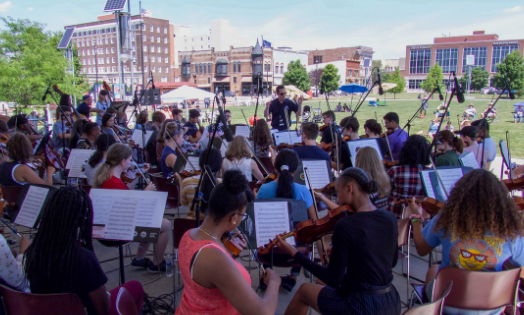 In 2011, Music for All began hosting their annual Summer Symposium on Ball State University's Campus. The week-long music camp brings more than 1,500 high-school musicians and more than 250 music educators from more than 30 states to Muncie each year.
With a plan in place to continue their camp on Ball State's campus in the future, Music for All leaders saw an opportunity to engage with the Muncie community. In 2017, Music for All asked the Foundation to convene a meeting of community partners to have a conversation about opportunities for partnership. During their 2018 camp, Music for All provided community organizations free tickets for the Summer Symposium's nightly, professional concerts to seven organizations. In that first year, seven organizations acted as partners, and 284 local community members attended the concerts.
In 2019, Music for All received a $5,000 grant from The Community Foundation to continue and expand the Summer Symposium Community Engagement Program. Through their engagement program, Music for All partnered with more organizations to once again provide free tickets for community members. Music for All also shared their national education clinicians to deliver off-campus music education workshops at Cornerstone Center for the Arts and provide instruction to students at Muncie Central High School.