Students help Delaware County Butterflies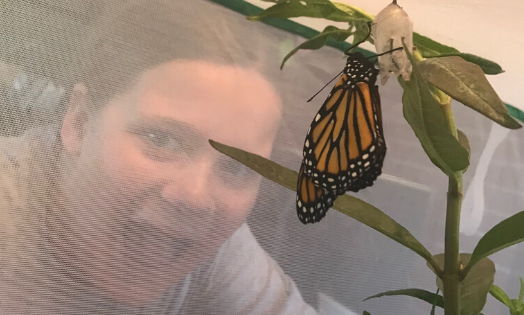 Monarch Butterflies are disappearing. The National Wildlife Refuge System cites the disappearance of milkweed from the American landscape as a major cause of the falling populations.
"Scientists blame land-use practices such as farming with crops modified to resist herbicides. The herbicides kill plants such as milkweed that grow around farm fields and have no such protection. Urban sprawl and development have also chewed up monarch habitat."
This spring, Selma Middle School's 6th-grade class studied butterflies and their habitat. Their goal was to plant and grow milkweed, butterfly bushes, aceplias, and lantana. These plants are favorites for the butterflies of our community. Plants purchased from the high school greenhouse would come with a milkweed plant.
With the help of $450 from the Robert P. Bell Education Grant, Selma Middle School purchased 450 milkweed plants for this initiative. They received the milkweed in a plug and proceeded to transfer the plugs to pots - all 450 of them. The students went to the greenhouse on a regular basis to water and maintain the plants. After creating a nourishing environment for the butterflies, the students were able to study the monarchs' life cycle.
The Bell Grant also paid for a butterfly habitat and four caterpillars. The students were able to watch the caterpillars devour the milkweed and then make their chrysalis. This reinforced the importance of milkweed to our local butterflies. After about 10 days, the butterflies began to break away from the chrysalis. Within 24 hours, the students fed the butterflies sugar water. The students then released the beautiful Monarch butterflies.
The Board of Directors of The Community Foundation established the Robert P. Bell Education Grant Program in 1992. Since then local teachers have received more than $127,000 in grants. Bell Grants provide support for innovative and creative classroom projects. Grants have supported projects in all subjects and grades.