Community Singers Hone Skill at Workshop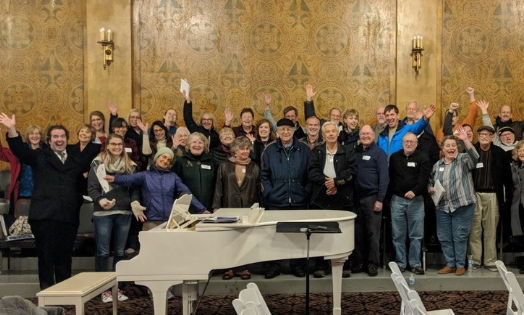 Last August, The Community Foundation provided Masterworks Chorale with a $4,500 grant through the Quarterly Competitive Grants program.
With help from this grant, Masterworks Chorale hosted its first, free vocal music education workshop for adults interested in singing and furthering their artistic development. On Saturday, November 10, 2018, at Cornerstone Center for the Arts, Masterworks Chorale's Community Singers Workshop convened 74 community singers led by their Artistic Director and Ball State Professor Dr. Kerry Glann, Ball State Professor of Vocal Performance Dr. Meryl Mantione, and University of Wyoming Professor of Choral Music Education Dr. Holly Dalrymple. From 9:00 am to 6:00 pm, participants enjoyed professional instruction in vocal warm-ups, group vocal technique, how to care for the voice at all ages, musicianship, developing music literacy, and rehearsal tips and tricks. There were introductions and fellowship over coffee and donuts in the morning, as well as a relaxing break in the afternoon where lunch was provided and participants had an opportunity to get to know each other and develop a sense of community among singers here in Muncie. The final session of the day was a whole group performance of four songs the group learned together during the day: "In Flanders Fields" by John Jacobson and Roger Emerson, "No Time" arranged by Susan Brumfield, "African Noel" arranged by Andre Thomas, and "Anthem of Peace" by Mack Wilberg.
The Chorale members honed their outreach skills, getting 94 people registered to attend, 37 of whom had no prior affiliation with the Chorale. In fact, one attendee who had no prior affiliation with the Chorale joined the ranks and is currently a member singer! The Chorale's member singers felt empowered and connected to our community on a deeper level through this opportunity to raise awareness of the role of art in our daily lives and its knack for bringing people together. The Community Singers Workshop strengthened the Chorale's relationship with the community and reached beyond their membership to create a sense of cohesion amongst the singers of Muncie and Delaware County. In a post-workshop survey, participants responded that they had developed skills and confidence to engage with their community through art:
"I learned techniques that I'm now using on a regular basis, as a participant in the UU (Unitarian Universalist) Choir." – Lisa Kuriscak
"It was a nice mix of education, technique, and hands-on (voices on) experience…an amazing experience and I am thankful to have been a part of it. I took away some valuable information that I look forward to using in the future." – Nicole Morris
"Whether you had previously studied voice or not, there were helpful, practical tips to implement immediately. Thank you again!!" – Barb Frost
"I left encouraged and grateful for the opportunity to be instructed by such great people." – Pat Smith
The Chorale's engagement with our community didn't stop there. Throughout the preparation process, members connected with choirs at eleven local churches and raised awareness throughout the greater East Central Indiana region. This outreach effort resulted in the East Central Indiana Chamber Orchestra reaching out to organize a collaboration for the Chorale's Fall 2019 Concert at Southside Middle School. The Chorale was also approached by Muncie Civic Theatre to provide singers for an upcoming production. This partnership not only gives Chorale members a chance to perform in a musical theater production but also builds the Chorale's reputation as a resource for quality vocal instruction.
Give Now
Your gift supports your community and the things you care about. Donate today to make Delaware County a better place today, tomorrow, and always.
Column 1 Placeholder Content