Students celebrate with fiesta de Navidad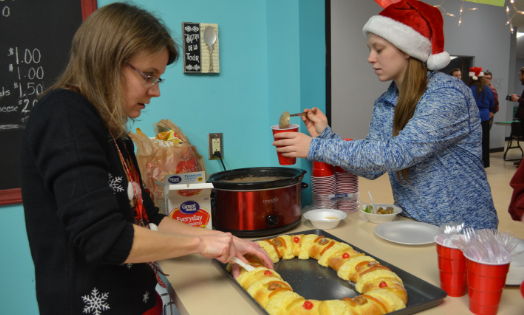 Students at Heritage Hall Christian School had the opportunity to experience an authentic Latin American Christmas without ever leaving Indiana. A $150 Robert P. Bell Education Grant awarded to Spanish teacher, Katy Ulrey, allowed three levels of Spanish students to deepen their understanding of Latin American culture through language learning and hands-on activities. These activities included creating traditional decorations, making Spanish food recipes, and learning holiday songs. These projects culminated into a multi-class celebration where students presented their projects, the significance in Latin American culture, and what they learned.
"We would not be doing these activities had I not received the Bell Grant," Mrs. Ulrey shared. "Although I do try to do at least one special activity with each class during the year, I would not have been able to cover the cost of something of this magnitude without the grant."
This project blended together the student's ability to learn and put into practice their Spanish classroom units. The Spanish 2 and 3 students were required to translate Spanish recipes into English and vice versa, and then prepare the dishes to share with the rest of the students. The Spanish 1 students were required to learn the vocabulary which corresponded with the piñata and other paper crafts that were on display during the project's final celebration.

"I like that we're not just sitting at our desk working," shared one student in Spanish 1. "We're doing something fun and not just learning from a book."
During the project's fiesta de Navidad, or Christmas party, students gathered in the school's youth center to enjoy the traditional holiday bread and pozole (a Mexican stew), joined in singing holiday songs such as "Rodolfo el reno" ("Ruldoph the Red-nose Reindeer"), and presented about their class's contribution to the project. Each class took a turn to talk about the things they had learned and describe their contribution to the celebration. While the students would normally spend their lunch hours together, they enjoyed the extra time discussing a collaborative project and trying new food.
"I wanted to try a new project that would incorporate the holiday and what the students have been learning," Mrs. Ulrey said. "This is something I'd like to do again or expand into other holidays. Hopefully with the help of a Bell Grant."
Since the Robert P. Bell Education Grant Program was established in 1992 by the Board of Directors of The Community Foundation, more than $127,000 has been granted to teachers in the Muncie and Delaware County community. Bell Grants provide support for classroom projects that are innovative and creative and designed to stimulate learning, like the Latin American Christmas at Heritage Hall Christian School.
Support Bell Teacher Grants
Robert P. Bell Education Grants are awarded to teachers with innovative ideas, programs, or projects that are designed to stimulate learning in their students. Grants range in size from $50 - $450. Your support to the Robert P. Bell Teacher Grant Fund will give teachers opportunities to enhance classroom learning.