Delaware County Youth Workers benefit from professional development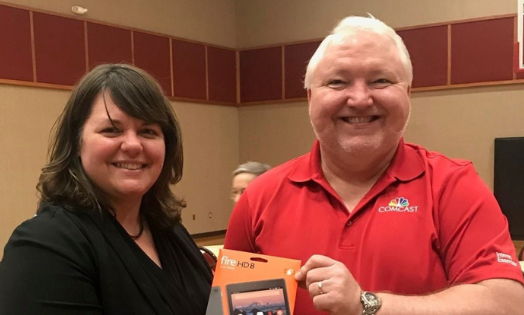 On May 2018, The Community Foundation awarded The Indiana Youth Institute $4,500 through the Quarterly Competitive Grants Program for the funding of three Youth Worker Café events and two Professional Development Grants. Both programs were open to anyone serving children or youth in Delaware County. This included staff from community-based nonprofit organizations, teachers, school counselors, social workers, and other youth advocates.
The Indiana Youth Institute promotes the healthy development of Indiana children and youth by serving the people, institutions, and communities that impact their well-being. These programs aligned with their values perfectly, with the intention of providing high-quality professional education, resources, and opportunities to connect for Delaware County youth-serving professionals. Each of these professional education opportunities enabled IYI to advance its mission of improving the lives of all Indiana children by strengthening and connecting the people, organizations, and communities focused on kids and youth.
The Youth Worker Café (YWC) program originally aimed to serve at least 32 individuals per meeting – a goal that was surpassed at all three meetings. The first session focused on the prevention of child sexual abuse. At this training, 35 attendees heard from Carol Cochard Pool, MSW, Prevention Educator/Trainer at Prevent Child Abuse Indiana (PCAIN), as she discussed how to prevent child sexual abuse through five steps to prevent, recognize, and react responsibly to the reality of child sexual abuse. Additionally, they heard from survivors as well as experts who work with children and families to confront abuse. An attendee shared that "it is always helpful to hear statistics and stories from other practitioners to support our work and improve our practice."
The second event delved into brain mapping and how it can help in understanding children's brains and behavior. This YWC, which drew an audience of 45 attendees, was taught by Dr. Jane Yip, Ph.D., BCBA, a neuroscientist specializing in brain circuitry. Dr. Yip spoke on how brain mapping is now being utilized to provide greater insight of consciousness and ultimately behavior in relation to brain conditions. There is great promise for this method in opening an avenue not yet available to mental health treatment. Corie Hess, a mental health/substance abuse intern and doctoral candidate at Ball State University stated, "The presentation on Brain Mapping was extremely informative and is a great resource to know about. I will certainly refer clients who may benefit from this service and am glad to have a baseline of knowledge about what this type of assessment entails."
The last café, focusing on digital safety and responsibility, contained the highest attendance at 55 attendees, indicating the timeliness of this topic. Stephanie Nancarrow, BSW, the Internet Crimes Against Children (ICAC) Youth Educator for the Indiana State Police spoke on topics such as cyberbullying, sexting, sexual solicitation, child pornography, and online radicalization. Attendees left the session with an increased awareness of these issues and the knowledge of how to talk about internet safety with kids and how to teach them to be safe and responsible online.
Throughout the three YWC events, IYI aimed to ensure that at least 90 percent of survey respondents would indicate at least one of the following after attending an event: feeling more connected to peers in their field, learning about more local resources available to them, or gaining knowledge about the topic(s) presented. Much like the attendance goals, YWC went above and beyond with 100 percent of respondents indicating that they gained at least one of these benefits. The same can be said of IYI's hope that this program would result in 90 percent of short-term survey respondents indicating that the YWC would impact their future work with youth. Once again, goals were surpassed with 95 percent of respondents noting a positive impact on their work.
The Indiana Youth Institute projected that the Professional Development Grant (PDG) would achieve the institution's goals by providing the financial assistance for two individuals to access relevant, high-quality continuing education opportunities as. Two professional development grants were distributed to workers serving the youth of Delaware County. The first PDG was given to Kenna Jones, Associate Principal at Muncie Central High School, where she works in preparing high school students for post-graduation avenues and the resources necessary for success. The second grant was given to Erin Crowley, Guidance Counselor at Muncie Central High School. Erin looks to better assist her students in a successful transition from high school into adulthood.
All PDG applicants were able to apply the grant funding towards a conference, training or workshop of their choosing or towards attending an IYI conference or training. Both Kenna and Erin chose to attend IYI's 2019 College and Career Conference, which took place June 5-6, 2019. At the College and Career Conference, Erin attended the safeTALK session on suicide prevention to gain life-saving intervention resources to better aid students in crisis. Kenna arrived looking to acquire college and career readiness, social emotional supports, and financial opportunity resources to better support high school students prepare for post-secondary life.
Give Now
Your gift supports your community and the things you care about. Donate today to make Delaware County a better place today, tomorrow, and always.