Biome Speed Dating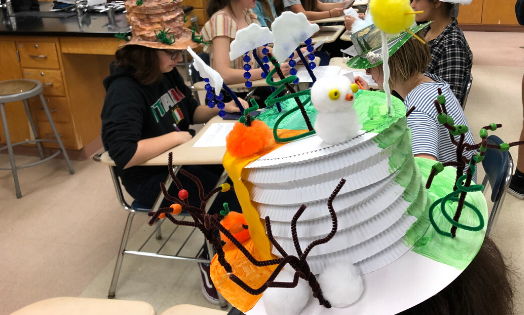 Speed dating may not be part of the high school curriculum. Environmental Sciences teacher Stephanie Lennon used the concept to teach students about biomes. Twenty-five Yorktown High School students participated in "Biome Speed Dating," an interactive review project that stressed creativity and cleverness. The project began with students researching an assigned biome. They used their research to construct a hat based on that biome's unique characteristics.
The research (and hat) focused on climate and weather patterns; plant and animal diversity and adaptations; biome distribution; and human impacts on the biome. Students wore their hats and personified their biome through conversation with their peers. In pairs, students spent four-minutes talking as their biomes, without mentioning their names. After the four minutes were up, students had to guess their partner's biome. Bonus points were awarded for best hat, the best date, and the best pick-up line.
"The students loved this activity," said Ms. Lennon. "The outcome of the biome hats were truly creative and the students enjoyed guessing the biome. It was a fun way to review the content."
A $330 Robert P. Bell Education Grant supported the project. Since the program was established in 1992 by the Board of Directors of The Community Foundation, more than $127,000 has been granted to teachers in Muncie and Delaware County. Bell Grants provide support for classroom projects designed to stimulate learning - like Biome Speed Dating. Grants have supported projects in all subjects and grades.