Make it a Destination: Mid-Indiana Trails Puts Mountain Biking on the Muncie Map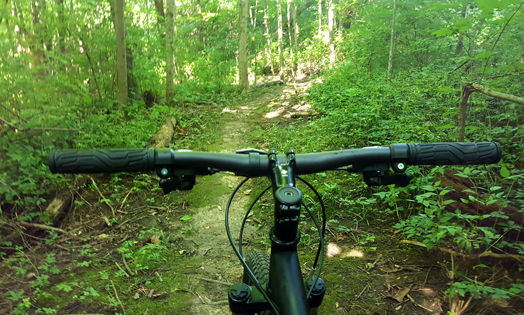 "This project will put natural surface trails within 19 minutes of downtown. Trail users will be able to access the trails without using surface roads thanks to the Cardinal Greenway, Redtail, and Prairie Creek Multi-Use Trails. The Foundation was integral to reaching our project goals."

- Dave Bradway, Mid-Indiana Trails Board President
Well-maintained trail systems can have a positive impact on the community in many areas. They can enhance the local economy through tourism. They can create a healthier community by giving residents more options for exercise. They provide recreation and add to the quality of place that makes a community a place people want to live.
While Delaware County has great trail resources in the Cardinal Greenway and other paved trails, there are no natural surface trails longer than 1.7 miles within a 30-minute drive of Muncie. Noting the need in the community, a group of trail enthusiasts formed Mid-Indiana Trails (MINT) in 2016. MINT organizes local trail building and maintenance volunteers and acquires funding for local mountain biking/hiking trails in the region.
In late 2016, MINT worked with a professional trail development consultant and the Muncie Parks Department to develop a mountain bike trail plan for Prairie Creek Park. With the plan in place, the group approached The Community Foundation in spring of 2017 with a grant request to develop a short beginner trail. Under the guidance of Foundation staff and with recommendations from the grants committee, the organization was encouraged to think bigger and turn to more funders in the community to secure funding for the entire plan.
MINT listened to the advice and presented their plan along with grant proposals to several local private foundations as well as individual donors. A $10,000 grant in 2018 from The Community Foundation helped close the gap on the $120,000 project which will include 4.27 miles of mountain bike trails including 1.53 of intermediate and almost 2 miles of more difficult trails. The trails are expected to be completed by August 1, 2019. When completed, the miles of trails will make Muncie a destination for mountain biking and hiking enthusiasts in the region.