Guiding Future Goals: More than 100 Cowan Students have benefited from scholarship
Valedictorian. Veteran. Farmer. Engineer. Philanthropist. Max Creviston was all of these things throughout his life. In 2000, the Max V. and Nellie Catharine Creviston Scholarship was established at The Community Foundation to honor graduating students from Cowan Jr./Sr. High School who are pursuing postsecondary education. The size of the scholarship fund has grown to be large enough to sustain three 4-year scholarships valued at $20,000 each year. In 2018, the fund awarded to the 100th student and exceeded $730,000 in total scholarship awards.
Max had deep roots in the Cowan area. The Creviston family owned and operated a farm and eight of the nine Creviston children graduated from Cowan in the '30s, '40s, and '50s. After graduating in 1934, Max moved to Nashville, Tennessee, where he took a job at Nashville Bridge Company. While living in Tennessee, Max met Nellie Catharine Cavaleri. The two were married in 1940. Max joined the United States Army Air Corps and served during World War II. After the war, Max and Nellie returned to his hometown and they purchased a small farm adjacent to the family farm where Max had grown up.
"Max valued his family, and since all of us lived here, he wanted to be close to us," shared Max's sister, Judy Garrett. Garrett is the youngest of the nine Creviston siblings, and remembers her brother as being very humble and committed to his family and community. "He loved to instill his passions and interest in his niece and nephews, and he was very generous in sharing his experiences with everyone."
During his life, Max had expressed a desire to set up a scholarship for Cowan students. After Max passed away in 1994, Nellie made provisions in her estate plan to make sure that would happen. After her death in 1997, a trust was established to manage the funds and administer the Max V. Creviston and Nellie Catharine Creviston Scholarship. A few years later, the trust was directed to The Community Foundation to manage the scholarship.
Max and Nellie's commitment to bettering the Cowan community has transcended decades of students at Cowan Jr./Sr. High School. The Creviston Scholarship has empowered many students to become teachers, journalists, engineers, doctors, biologists, and even philanthropists. Kelsey Harrington, a 2015 graduate of Cowan and a Creviston scholar, will graduate from Indiana University Purdue University in May with a degree in philanthropic studies. Harrington currently serves as an intern at George and Frances Ball Foundation in Muncie, and upon graduation will take on a full-time position as program associate. Returning to her home community to make an impact just like Max did.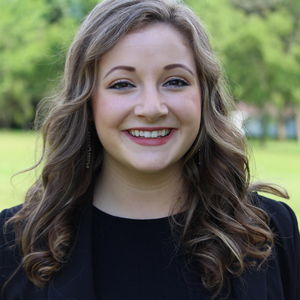 " The Creviston Scholarship has been a constant support through my college experience, investing in my education. Throughout challenge and triumph away at school, I have felt ongoing encouragement and guidance from my local community particularly through the Creviston Scholarship."
- Kelsey Harrington