A Route to Give: Dr. Herbert Hamilton Carries Forward a Lifetime of Giving
Dr. Herbert Hamilton served the community in a variety of ways and with endless enthusiasm Establishing two funds at the Foundation – one during his lifetime and a second through his will – was a great way to continue his legacy of commitment to the community.
In 1997, Dr. Hamilton established the Herbert H. Hamilton Charitable Fund as a donor advised fund. During his lifetime, and through the lifetime of his good friend, Beulah Book, Dr. Hamilton and Book could advise grants to the organizations and causes that mattered most to them. After their deaths, the fund became designated to the Eaton Public Library, an organization close to Dr. Hamilton's heart.
When Dr. Hamilton passed away in 2000, a charitable remainder trust was established to provide income for Book for the remainder of her lifetime. When she passed away in 2009, the Herbert H. Hamilton Designated Fund was established to benefit six local organizations and the Smithsonian Institute, honoring Dr. Hamilton's love of history and his strong belief that our nation's heritage should be preserved.
2018 marks the 10-year anniversary of the fund, which has awarded nearly $275,000 to six local organizations.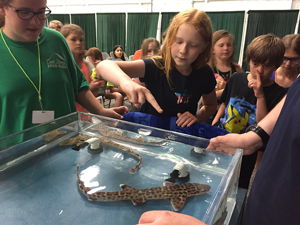 DELAWARE COUNTY 4-H CLUBS
Delaware County 4-H members have opportunities to attend 4-H trips, camps, and overnight workshops that support youth leadership and other important skills. With the support of the Herbert H. Hamilton Designated Fund and other donations, the Delaware County 4-H Council pays half the cost of most of these experience for members. Last year a "Teens as Teachers" team spent a weekend at Bradford Woods near Martinsville ramping up leadership skills. Another group of 4-H junior leaders and advisors attended the 4-H Leadership Summit.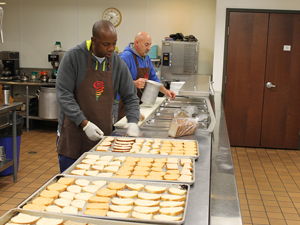 MUNCIE MISSION
For nearly 90 years the Muncie Mission has extended compassionate care to those in need in our community. The consistent core of services has been emergency shelter for homeless men and a Christ-centered longterm residential recovery program for those battling addictions. Today, the Mission also provides transitional housing, and walk-in family services for neighbors including daily hot meals, groceries, clothing, and financial assistance. The annual distribution from the Hamilton Fund arrives each July – a crucial time typically marked by lower monthly donor support.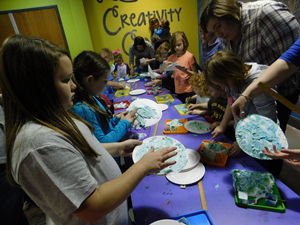 MUNCIE CHILDREN'S MUSEUM
The Hamilton Fund supports general operations of the Muncie Children's Museum. In the ten years since the museum has received the funds, more than 383,500 visitors including 74,500 school children, have made new discoveries at the museum. For many visitors, Muncie Children's Museum is an important part of growing up in Muncie. One visitor recently wrote, "We have enjoyed this museum since my kids were little. Love all the improvements over the years. Now I bring my grandkids."
MEALS ON WHEELS
Meals on Wheels delivers a hot and healthy lunch at the lowest possible cost to individuals who have limitations do to their age, illness or disability. A Client's Assistance Fund, supported by Herbert H. Hamilton Designated Fund, allows Meals on Wheels to provide meals at an even further reduced the cost for clients with severely limited income.
AMERICAN RED CROSS
With the support of the Hamilton Fund the Indiana Red Cross is supporting disaster victims, military personnel, and their families, and growing our community's preparedness skills and resilience for the future.
SALVATION ARMY
The Salvation Army is an international movement that is motivated by the love of God to preach the gospel of Jesus Christ and to meet human needs without discrimination. Locally, The Salvation Army provides residents of Delaware County with food and financial assistance during times of need. The Hamilton Fund supports general operations of the local Salvation Army.